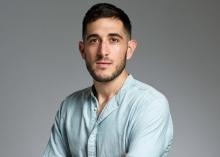 Speaker: Massimo Belloni
He / him / his
Data Science Manager @Bumble
Massimo is a Data Science Manager and Machine Learning Engineer currently leading the Integrity & Safety Team at Bumble Inc (London, UK). He previously was Team Lead of the Data Engineering Team at HousingAnywhere (Rotterdam, The Netherlands) and graduated in computer engineering at Politecnico di Milano (Milan, Italy). He has quite a broad and random set of interests within and outside the AI space, with a focus on consciousness, weak and strong AI debate and football. In his spare time, he is also a burgers and kebabs evangelist.
Find Massimo Belloni at:
Session
In this talk, we would go through the lessons learnt in the last couple of years around organising a Data Science Team and the Machine Learning Engineering efforts at Bumble Inc.
Read more