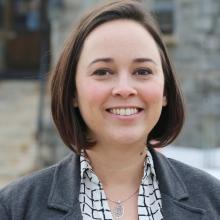 Speaker: Audrey Troutt
She / her / hers
CTO @Tomo
Audrey Troutt is the CTO of Tomo and is based in Philadelphia, PA. At Tomo, she founded the engineering organization, led the team to build Tomo's technology platform from the ground up, and launched in 2021. Tomo is building the future for how homes are bought -- bringing certainty and joy to the home-buying process. Audrey is an accomplished hands-on technology leader with over fifteen years of experience in engineering leadership and development for both consumer applications and SaaS products. Audrey is passionate about automation, software craftsmanship, and building healthy and efficient engineering cultures.
Find Audrey Troutt at:
Session
The best way to grow in your career is to help others grow as well. This is true when you are going from engineer to senior engineer, or if you are a senior engineer growing into a principal or tech lead.
Read more
Session
As you progress in your career, your technical skills will still be important, but you will also need to develop new skills in leadership, communication, and strategic thinking. This panel will provide practical advice on how to succeed in this role.
Read more