The best way to grow in your career is to help others grow as well. This is true when you are going from engineer to senior engineer, or if you are a senior engineer growing into a principal or tech lead. It sounds simple, but there are some very common traps that we all fall into that hold us back from growing. At each new level in your career, you can have a positive impact on more people and lead successful delivery in larger and more impactful projects for your company, but only if you learn to let go of what you are good at, teach others to excel at those skills too, and embrace the new challenges and opportunities ahead of you. For those of you on a software engineering career path, I hope to share these lessons I've learned to help you on your journey.
What's the focus of your work these days?
At Tomo, we are defining the future for how homes are bought - starting with how homes get financed. How we do that involves rejecting the status quo for the kinds of tech (or lack of tech) and processes that make home buying so expensive, opaque and full of surprises and delays today. Great technology empowering great people is what gets us there. As VP of Engineering at Tomo, I built the engineering org and, together with them, built Tomo's technology platform from the ground up. We started just over 2.5 years ago, launching Tomo from zero in 6 months. We have been learning, growing, and continuing to push the boundaries of what is possible in this industry ever since. As the new CTO of Tomo, I'm now leading engineering, IT, and data to further Tomo's mission to modernize the mortgage industry with innovative technology designed to deliver amazing customer experiences. 
As the top engineering leader, the three areas I focus on are people, process, and technology. People means hiring excellent, collaborative engineers and creating an environment in which they can thrive. Process is about figuring out how we organize ourselves and our work and our ideas so that we can learn and iterate quickly, so that we can move fast as startups must do to survive. Technology is about our code, the APIs and vendors we partner with, and the tools that we all depend on to do our jobs. I have to stay close to what we have built, what we need next, and bring to the table what is possible for the future.
What's the motivation for your talk at QCon New York 2023?
I wrote this talk because as I grew in my career as an engineer I found some inflection points that I didn't see coming and I also found myself falling into the same traps over and over again that held me back and burned me out. Some of these lessons are easier to see in hindsight, but I want to share them with others as my mentors and role models did for me over the years. These are the same lessons that I share with my teams and the engineers that I mentor today.
How would you describe your main persona and target audience for this session?
This talk is for people who want to grow as an engineer. This talk can be helpful for engineers of all levels, but it will hit differently depending on where you are in your career.
If you are earlier in your career, I'm going to give you some ideas about what it will look like and feel like to take those next steps, like growing to senior engineer, or to platform leader.
If you are further in your career you might see yourself in some of the struggles I share, like if you are simultaneously over-busy and bored out of your mind, or if you are stressed out and don't have time to think about learning something new. I want to talk about how you can approach getting out of that by growing the next generation of leaders and engineers behind you.
For those of you who are already active mentors, I hope that my talk can give you ideas about how you coach others through these career stages too. I share my framework for thinking about growth, and how you focus on breadth and depth at different stages of your career, and of course how to coach people to also help others grow themselves.
Is there anything specific that you'd like people to walk away with after watching your session?
The message is really simple: at every level in your career focus on what only you can do. To make space to grow, you have to let go of what you are already good at and focus instead on helping others learn that skill in your place. Investing in growing others on your team or at your company is what frees you up to take on new challenges (and hey, maybe also avoid complete burnout!). Your growth is an opportunity for your teammates to grow too - don't deprive them of that!
---
Speaker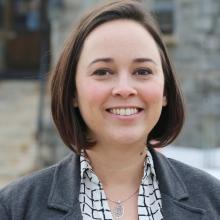 Audrey Troutt
CTO @Tomo
Audrey Troutt is the CTO of Tomo and is based in Philadelphia, PA. At Tomo, she founded the engineering organization, led the team to build Tomo's technology platform from the ground up, and launched in 2021. Tomo is building the future for how homes are bought -- bringing certainty and joy to the home-buying process. Audrey is an accomplished hands-on technology leader with over fifteen years of experience in engineering leadership and development for both consumer applications and SaaS products. Audrey is passionate about automation, software craftsmanship, and building healthy and efficient engineering cultures.
Read more
Find Audrey Troutt at: